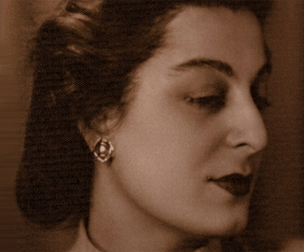 Zerrin Bölükbaşı
First woman sculptor to work in abstractions
Date of Birth: 15/01/1919 1919
Place of Birth: Bakırköy, Istanbul
Date of Death: 14/11/2010 2010
Place of Death: Şişli, İstanbul
Burial Site: Zincirlikuyu Cemetery, Istanbul
Field of Activity
Sculpture
Exhibitions
(a selection)
1956

Beyoğlu Municipal Gallery, Istanbul, first individual show

1961

Second International Modern Sculpture Exhibition, Musée Rodin, Paris

1986

Ankara Tanbay Art Gallery, Ankara

1990

Destek Art Gallery, Istanbul
Zerrin Bölükbaşı as Administrator
1954-1963

Director of the Beyoğlu Municipal Gallery
Awards
1958

Her sculptural work titled "Dance" took second place in an international competition in Paris with artists from 27 countries competing.

1963

She took fourth place in Berlin with a sculpture titled Head of a Black Man.

1969

Second place in the State Painting and Sculpture Exhibition, Ankara.
Memberships
International Woman Artists' Club
"Bizim Grup" (the art group "Our Group")
Education
1926

Bakırkoy Primary School, Istanbull
Kadıköy Amerikan College, Istanbul

1938

Istanbul Fine Arts Academy, student of Rudolf Belling
Contributions to Society
1965

Zerrin Bölükbaşı was chosen to be the director of the Istanbul division of the International Woman Artists' Club, centered in Paris. (The Woman Artists' Club continued in existence until 1973.)

1986

She donated the revenue from her show at Ankara's Tanbay Art Gallery to assistance programs in Africa.

1987

"Our Group" having been founded by Zerrin Bölükbaşı together with Zeki Kıral, Selim Turan, Leyla Gamsız, Hüseyin Gezer, Kristin Saleri, Nuri Abaç, Şadan Bezeyiş, Dinçer Erimez ve Şükriye Dikmen, they all organized painting and sculpture exhibitions every year in Ankara and Istanbul.
Family and Friends
Mother:

Nevzat Ark

Father:

İhsan Ark (real estate agent)

Sisters:

Bercis Ark, Nermin Ark

Son:

Ahmet Bölükbaşı

Husband:

Nazif Bölükbaşı

Father-in-law:

Rıza Tevfik Bölükbaşı (poet, philosopher, politician)

Friends:

Celal Esat Arseven (painter, art historian, assistant professor, representative in parliament), Sadi Çalık (sculptor), İlhan Koman (sculptor), Hüseyin Gezer (sculptor), Yavuz Görey (architect, sculptor), Kristin Saleri (painter)
Commemorative Projects
Personal Archive
The Zerrin Bölükbaşı personal archive can be found at the Women's Library in Istanbul (Kadın Eserleri Kütüphanesi ve Bilgi Merkezi Vakfı).
The "Figure" Sculpture
Zerrin Bölükbaşı's "Figure" sculpture was first placed in front of the Muhsin Ertuğrul Theater, and later relocated to the sculpture garden of the Officers' Club when the Harbiye Officers' Club garden was expanded.
Play in which she is mentioned
In the play "Kadın Hayattır Memattır Kadın" (Woman is Life), the life of Zerrin Bölükbaşı is featured, together with the lives of other women who were also first in their fields: Leyla Saz, Şair Nigâr, Mihri Hanımand Fatma Aliye.
Kadın Hayattır Memattır Kadın (Woman is Life). Script: Sema Kecik, Arzu Işıtman. Director: Sema Keçik. City Theater production, 2011. Actors: Bensu Orhunöz, Mahperi Mertoğlu, Rozet Hubeş, Şehnaz Bölen Taftalı, Özge Midilli.
Further Reading
Rakım Ziyaoğlu, Zerrin Bölükbaşı (Heykel Sergisi) 4 - 26 Mart 1997, Ankara Sanat Galerisi (Sergi Kataloğu) İstanbul, 1997
"Zerrin Bölükbaşı", kadineserleri.org,
http://www.kadineserleri.org/kadin_rehberi_biyografiler.asp?harf=Z (Erişim 23.2.2012).
Yıldanur Ketenci, Zerrin Bölükbaşı – Yaşamı ve Sanatı , Dokuz Eylül Üniversitesi, Güzel Sanatlar Fakültesi, Heykel Bölümü, 1995, diploma thesis. (15.1.2017)
Sources
Quoted Sources
· See section "Further Reading"
Source for visual images
Kadın Eserleri Kütüphanesi ve Bilgi Merkezi Vakfı, İstanbul
Acknowledgments
The Women's Museum Istanbul is grateful to Burcu Pelvanoğlu for her support in producing the Zerrin Bölükbaşı introductory pages.
---
Translation into English: Margaret Fearey, Milton, Massachusetts, USA
©2012 Meral Akkent