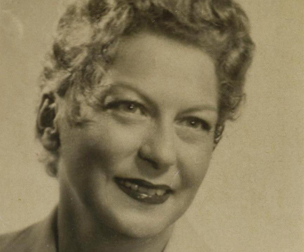 Sara Farhi Huntzinger
First Turkish Jewish woman who graduated from the Academy of Fine Arts in Istanbul
"I dedicated myself to my profession."
Date of Birth: 25/04/1912 1912
Place of Birth: Istanbul
Date of Death: 1980
Place of Death: Paris
Burial Site: Paris, France
Field of Activity
Painting
"My dear Fikret,
Do not be amazed that you have heard from me. I have written to my family several times to get information about you. In fact, I came to Istanbul in June 1951 and called you. Unfortunately you were in Ankara. I was unable to find other friends either. On the other hand I visited the Academy of Fine Arts where I had spent the best years of my life. Alas! The fire had destroyed a large part of the academy, and the studio that I once used to work in. In spite of everything I felt happy in the environment of which I have sweet memories. (...)

Since then changes have occurred in my life. I have married a well known French pilot with a Légion d'Honneur medal. Two children have been born in this marriage. A very beautiful girl who is thirteen and a robust ten year old boy. (...)

When the war ended my husband and I settled in Indochina. It is a very beautiful and quite pleasant to live in. Especially for a woman, there is no obligation to do the household chores because it is possible to find very skilled help for this. So I was able to start painting again. And I dedicated myself to my profession. (...)

I went to France for a vacation in the summer of 1951. There I met M. Albert Sarraut, the president of the Union Francaise. He is an art lover. At the same time he lived in Indochina for many years and helped to open many art schools there. Some of these schools have unfortunately closed because of the recent wars. When he saw my paintings he was interested and encouraged me to hold a personal exhibition. The exhibition which opened in Saigon was a great success, in spite of my expectations to the contrary. Many Vietnamese people have ordered portraits by me.
Even if I am now a French citizen, I have used my Turkish name in my exhibition in memory of my late father who passed away recently and my country Turkey. I do not miss any opportunities to talk about Turkey here. A few days ago a Frenchman who had travelled in the Near East gave a series of lectures here in Saigon, where he spoke of Turkey in a wonderfully good way. You cannot imagine how proud I felt. (...)

They now want from me articles about the art scene in Turkey, for a Vietnamese newspaper here. They imagine that Vietnamese art movements will be encouraged through these articles. I have agreed to help because I will have the opportunity to mention and introduce my beautiful country Turkey, which is not known here at all. They only know Turkey through their heroism in Korea. However Turkey has artists and craftsmen too. (...)

My dear Fikret, I would like to ask you to pass my greetings and friendship to all our old friends."
Sara Farhi Huntzinger
Saigon, January 1953
Sara Farhi Huntzinger sent the above letter to Fikret Adil, a friend in Istanbul. This letter was published by Haldun Dormen as news of "The Exhibition of Sara Farhi" in the newspaper. The name of the newspaper and the date of publication could not be detected. The newspaper clipping containing the news is located in the Sara Farhi Huntzinger presentation visual archive.
Sara Farhi Huntzinger was the first Turkish Jewish woman to graduate from the Academy of Fine Arts in Istanbul. the-academy-of-fine-arts
Awards
(No information available)
Memberships
The Independent Painters and Sculptors Association, Istanbul (Müstakil Ressamlar ve Heykeltıraşlar Birliği)
Education
Academy of Fine Arts, Istanbul, 1935-1939
Contributions to Society
(No information available)
Family and Friends
Mother:

Fani Luna Farhi

Father:

David Farhi (antiquarian, engraver)

Sisters:

Matti Farhi Matalon, Viki Farhi, Beki Farhi Babigeon

Brother:

Sami Farhi (engraver, plastics and plastic mold manufacturer)

Daughter:

Danielle Huntzinger (fashion designer - married Michel Boussicot)

Son:

Gerard Huntzinger (academician & scientist)

Spouse:

Charles Marcel Huntzinger (French pilot w Legion d'Honneur medal)

Niece&nephews:

Lina Filiba (executive), Rita Sisa (financial analyst) Eric Babigeon (computer analyst and programmer), Jean Luc Babigeon (mechanical engineer)

Friends:

Haldun Dormen (director, theater actor), Fikret Adil Kamertan (journalist, author, translator)
Commemorative Projects
(No information available)
Further Reading
(No information available)
Souces
Quoted souces:
· Lina Filiba, İstanbul, Gerard Huntzinger (Paris), Michel Boussicot (İbiza) private archives
Source for visual images:
· Lina Filiba, İstanbul, Rita Sisa, İstanbul, Gerard Huntzinger (Paris), Michel Boussicot (İbiza) private archives
Acknowledgments
The Women's Museum Istanbul is grateful to Lina Filiba for her support in producing the Sara Farhi Huntzinger introductory pages.
---
Translation into English: Lina Filiba, Istanbul, Turkey Editing: Lyndall von Dewitz, Oberasbach, Germany
©2012 Meral Akkent