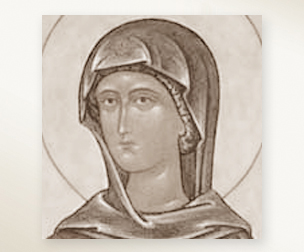 Kassia
First female composer in world history whose compositions have come down to us
"I hate silence when it is a time for speaking."
Date of Birth: 810
Place of Birth: Constantinople
Date of Death: 890
Place of Death: Kasos Island, Greece
Burial Site: Kasos Island (Her marble sarcophagus is in the chapel dedicated to her, but her bones were brought to the island of Ikaria)
Field of Activity
Mentioned as Kasia, Kassiane, Kassiani, Casia, Ikasia, Cassia, Cassiane, Kassiana, Kassianh or Eikasia as well in various sources, Kassia is a Byzantine composer whose works of art made their way to our time. She is mostly known as a composer of sacred poems and credited with having written 50 liturgical compositions.
Kassia was born into a wealthy family and grew to be exceptionally beautiful and intelligent. Byzantine chroniclers as Pseudo-Simeon the Logothete, George the Monk, and Leo the Grammarian claim that she was a participant in the "bride show" organized for the young Byzantine Emperor Theophilos by his stepmother. Attracted by Kassia's beauty, the young emperor approached her and said: "Through a woman [came forth] the baser [things]," referring to the sin and suffering coming as a result of Eve's transgression. Kassia promptly responded by saying: "And through a woman [came forth] the better [things]," referring to the hope of salvation resulting from the incarnation of Christ through the Virgin Mary.
Theophilos's pride was wounded by Kassia's terse rebuttal, he rejected her and chose Theodora as his wife (as Empress Theodora II.).
In 843 Kassia founded a convent in the western part of Constantinople on the 7th hill, the Xerolophos near the Constantinian Walls (within today's Samatya - Çapa - Cerrahpaşa areas in Kocamustafapaşa neighborhood) and became its first abbes. In this monastery bearing her name, Kassia composed music, wrote poems and worked.
Poems of Kassia
Kassia also wrote secular epigrams and moral sayings. 261 verse have been identified as her work.
I hate a murderer condemning the hot-tempered.
I hate the adulterer when he judges the fornicator.
I hate the leper who drives out the leprous.
I hate a rich man complaining as a poor man.
I hate the poor man boasting as in wealth.
I hate a debtor who sleeps unconcernedly.
I hate the verbose in an unsuitable time.
I hate silence when it is a time for speaking.
I hate the one who conforms to all ways.
I hate the one who does not encourage everyone with words.
I hate one who speaks before examining.
I hate the one who teaches knowing nothing.
(Kassia) Source: "Other Women Voices" infionline.net.
Some Examples of Kassia's Compositions
Kassia's hymn "Petron ke Pavlon" performed by the group Voca Me in Theatinerkirche (Munich) in 2009
Hymn "O Phariseos"
Hymn "E ton leipsanon sou thike"
Hymn "E' gapesas Theophore"
Awards
(No information available)
Memberships
(No information available)
Education
In accordance with the traditions of the upper class families of her time, Kassia was educated privately and received special education in philosophy and theology.
Contributions to Society
Family and Friends
Mother:

(No information available)

Father:

(No information available, except he was candidatos, that means he served in the emperor's court)

Friends:

(No information available)
Commemorative Projects
A CD-Project
Kassia, CD, Byzantinische Hymnen der frühesten Komponistin des Abendlandes (Byzantine Hymns of the Earliest Female Composer of the Western World), VocaMe, Christophorus-Verlag 2009 (CHR 77308).
Article about Kassia on the web site of Voca Me
Further Reading
Duygu Ataç, "Bilinen İlk Kadın Bestecilerden, İstanbullu Kassia", www.5harfliler.com, 31.8.2016. (4.9.2016)
Theresia Kraienhorst, "Kassia, die Frau, die zu klug war, um Kaiserin zu werden", dradio.de, 4-9-2011, http://www.dradio.de/dkultur/sendungen/feiertag/1539751/
Anna M. Silvas, "Kassia the Nun," in: Lynda Garland (ed) Byzantine Women: Varieties of Experience 800-1200, Ashgate, 2006.
Touliatos, Diane (Transcription/ Arrangement), Kassia's "Using the Apostate Tyrant As His Tool," Kronos String Quartet's Early Music (Lachrimae Antiquae) CD, 3' 51", 1997.
Touliatos, Diane, "Kassia (ca. 810-ca.867)", in: Women Composer: Music Through the Ages, vol. I Composers Born Before 1599, eds.: Martha Furman Schleifer, Sylvia Glickman, New York, G.K. Hall, 1996, pp. 1-24.
Dorothee Sölle, Joe H. Kirchberger u.a., Große Frauen der Bibel in Bild und Text, Herder, 3. ed. 1994.
James R. Briscoe, Historical Anthology of Music by Women, Band 1, 1987, pp- 1-2.
Diane Touliatos-Banker, "Women Composers of Medival Byzantine Chant", College Music Symposium XXIV/ı, 1984, pp. 62-80.
Diane Touliatos-Banker, "Medieval Women Composers in Byzantium and the West", Acta Scientifica 'Musica Antiqua', 1982, pp. 687-712.
"Kassia: The Byzantine Hildegard of Bingen", philobiblon.co.uk, http://philobiblon.co.uk/?p=1712
"Kassia die Hymnographin", heiligenlexikon.de, http://www.heiligenlexikon.de/BiographienK/Kassia_Hymnographin.html
Diane Touliatos-Miles, "Women Composers in Byzantium", hellenicest.com, http://www.hellenicnest.com/dianeII.html
"Kassia", infioline.net, http://home.infionline.net/~ddisse/kassia.html
"Kassia", http://de.wikipedia.org/wiki/Kassia
"Kassia", http://en.wikipedia.org/wiki/Kassia
"Kassiani the Hymnographer", http://orthodoxwiki.org/Kassiani_the_Hymnographer
"Hymn of Kassiani", http://orthodoxwiki.org/Hymn_of_Kassiani
"Kassia die Hymnographin", www.heiligenlexikon.de. (29.11.2020)
Sources
Quoted Sources:
Sources of Visual Images:
---
Translation into English: Ebru Şanlıtürk, Istanbul, Turkey Edit: Judith Cederblom, Seattle, Washington, USA
©2012 Meral Akkent