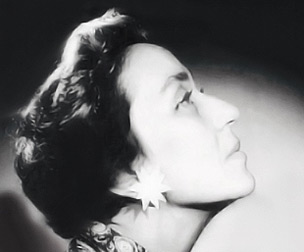 Adalet Cimcoz
First woman art gallery entrepreneur in Turkey
"My biggest pleasure is to rejoice with the artists at every exhibition."
Date of Birth: 25/07/1910 1910
Place of Birth: Çanakkale, Kilitbahir
Date of Death: 13/03/1970 1970
Place of Death: Istanbul
Burial Site: Aşiyan Cemetery, Rumelihisarı, Istanbul
Field of Activity
Gallery Creator
"I will be most delighted if I am successful in what I have attempted to do, building a bridge between the artist and the public. Because we have all noted the absence of such a place, I decided to start this business. I hope to be successful. At any rate I have no further expectations. If I am able to cover the costs of the gallery, this place will be open forever. Otherwise, given certain limitations, I will try to keep the gallery open as long as possible."
(Adalet Cimcoz)
Adalet Cimcoz was interveiwed at the Maya Gallery Opening by Fikret Adil from the newspaper Yeni Istanbul, 25th December, 1950.
Adalet Cimcoz opened the Maya Art Gallery on December 25, 1950 at number 20, Beyoglu Kallavi Street in Istanbul in the first story of a two-storied apartment building. She remained director of the gallery until it closed in 1955. The successful Maya Art Gallery contributed to the improvement of art and was the first art gallery founded by a woman. She introduced new concepts such as exhibiting paintings that were inspired by poetry and music, and comics and children's comics to promote the idea of comics as art. By mixing sculpture, mosaic, ceramics, photography, figure drawing and folk art with the painting exhibitions in the gallery, she initiated an interdisciplinary art perspective for the first time.
Announcements of the Maya Gallery Opening
Fikret Adil writing for the newspaper Yeni Istanbul, December 26, 1950 under the pseudonym "An Istanbul Citizen":
"Yesterday in our city a quiet and unobtrusive 'event' occurred. A little art gallery opened in Beyoglu (. . .) If this gallery manages to provide what the municipality promised, yet couldn't deliver, there will be great happiness."


(Melda Kaptana, Maya ve Adelet Cimcoz, Istanbul 1972, p. 20)
One of the D Group members, Cemal Tollu, who contributed his works for the opening exhibition:
"(. . .) Our intellectual friend who opened this gallery used to send a painting as a gift when such occasions as new year, marriage, birth etc. arose. Now she has set up a cute little place in order to engrain this habit into all the people of the country. Without a doubt, The Maya Art Gallery will have a large and auspicious role in Turkish art."


(Melda Kaptana, Maya ve Adalet Cimcoz, 1972, İstanbul, p.28)
Journalist Nizamettin Nazif repports about an Exhibition Opening at the Maya Gallery
"Two rooms with another and a hole (. . .) a stove behind a screen and a long wide couch (. . .) paintings (. . .) sculptures with their arms and legs cut off, carved wood (. . .) scarfs, carpets (. . .) The two rooms were so crowded (. . .) academics, professors, painters, sculptors, decorators, critics (. . .) lecturers, novelists, actresses, journalists, actors, screenwriters, film directors, playwrights, vocalists, sopranos, tenors, dubbing artists (. . .) Until Adalet Cimcoz invited them, it was not possible to bring all these people together."


(Nizamettin Nazif "Dublaj kraliçesi Adalet Cimcoz" Radyo Magazin, 29.4.1951, pp.19-21)
Adalet Cimcoz as Dubber
Adalet Cimcoz dubbed for many actresses such as Belgin Doruk, Türkan Şoray, Fatma Girik, Filiz Akın.
Adalet Cimcoz as Art Critic
She wrote literary, art and theatre criticism for Yeditepe, Varlik, and Yeni Ufuklar journals.
Adalet Cimcoz as Translater
She translated authors such as Berthold Brecht, Knut Hamsun, Georg Buchner, B. Traven, Lope de Vega, Franz Kafka, T. Dery, and Max Frisch into Turkish.
Awards
1962

The Turkish Language Institution Translation Award for Franz Kafka's Letters.
Memberships
Friends of Art Association (Sanat Dostları Cemiyeti)
Education
Contributions to Society
The founder of Friends of Art Association (Sanat Dostları Cemiyeti), 1950
Adalet Cimcoz announced an exhibition organized by this association, a first in the life of Turkish art: "This week, Friends of Art Association showed 61 paintings in its modest gallery under the name of Turkish Woman Painters Exhibition. While the city of Istanbul still awaits a gallery, the association's comforting rooms with their unsteady floors are serving well." (Mine Söğüt, Adalet Cimcoz: Bir Yaşam Öyküsü Denemesi, 1972)
Family and Friends
Brother:

Ferdi Tayfur (dubbing artist)

Marriage:

Mehmet Ali Cimcoz (Lawyer)

Friends:

Orhan Veli (poet), Sabahattin Eyüboğlu (author, translator), Fikret Adil (art critics, author, translator), Sezer Sezin (actor), Nuri İyem (painter), Ferruh Başağa (painter), Ahmet Hamdi Tanpınar (author), Sabahattin Ali (author, translator), Nazım Hihmet (poet), Azra Erhat (linguist, archeologist, translator), Sait Faik Abasıyanık (author), Bedri Rahmi Eyüboğlu (painter), Nevin Akkaya (actress, dubbing artist), Magdalena Rufer (pianist), Vala Nureddin (journalist, translator), Fikret Otyam (painter), Füreyya Koral (ceramic artist), Halikarnas Balıkçısı Cevat Şakir Karaağaç (author, translator), Şakir Eczacıbaşı (journalist, photographer, former director of İstanbul Culture and Art Foundation).
Commemorative Projects
Further Reading
Azime Savaş, Maya Sanat Galerisi, Yüksek Lisans Tezi, Marmara Üniversitesi, Türkiyat Araştırmaları Enstitüsü, Türk Sanatı Anabilim Dalı, İstanbul, 2008.
http://www.belgeler.com/blg/1gn6/maya-sanat-galerisi-maya-art-gallery (1.12.2011)
Feza Kürkçüoğlu, "Maya Sanat Galerisi'nde", Gündüz Gece Beyoğlu, 11-17 Mart 2005.
Mine Söğüt, Adalet Cimcoz: Bir Yaşam Öyküsü Denemesi, İstanbul, 2000.
Gökhan Akçura, "Dostları ona 'Ada' derdi", Cumhuriyet Gazetesi, 13.3.1990.
Azra Erhat, "Adalet Cimcoz'un Evi" Hürriyet Gösteri, Yıl 1, sayı 9, 1981.
Şükran Kurdakul (der.), Nazım'ın Bilinmeyen Mektupları Adalet Cimcoz'a Mektuplar / 1945-1950, İstanbul, 1987.
Azra Erhat, "Maya ve Cim-Dal, ölümünün 10. yılında Adalet Cimcoz'u anıyor", Milliyet Sanat Dergisi, Yeni Dizi: 3, İstanbul, 1980, ss. 15-16.
Melda Kaptana (der.), Maya ve Adalet Cimcoz, İstanbul, 1972.
Azra Erhat, "Adalet'in Sesi", Yeni Ufuklar (Aylık Sanat ve Düşünce Dergisi), İstanbul 1970, s.216.
Müşerref Hekimoğlu, "Saadetlerinin sırlarını söylüyorlar, Cimcoz Ailesi", Resimli Hayat, No 12, İstanbul, Nisan 1953, s.4.
Nizamettin Nazif, "Dublaj kraliçesi Adalet Cimcoz", Radyo Magazin, İstanbul, 29.4.1951, ss.19-21.
Sources
Quoted Sources:
Fikret Adil, "Maya Galeri", Yeni İstanbul Gazetesi, 25 Aralık 1950
Nizamettin Nazif "Dublaj kraliçesi Adalet Cimcoz" Radyo Magazin, 29.4.1951
Melda Kaptana, Maya ve Adalet Cimcoz, İstanbul 1972
Ali Can Sekmeç, Melda Davran, "Mora'dan Moda'ya Cimcozlar", chrocnicledergisi.com, http://www.chronicledergisi.com/moradan-modaya-cimcozlar/, erişim 20.2.2012)
Sources of Visual Images
---
Translation into English: Burçak Çınar, Istanbul Editing: Susan Strane, Chilmark, Massachusetts, USA
©2012 Meral Akkent