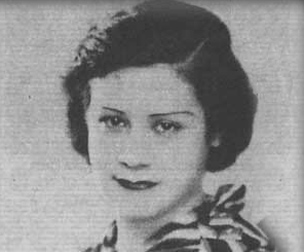 Afife Jale
First Muslim theatre actress who was admitted to the City Theatre of Istanbul in 1918
"I was overwhelmed by the drunkenness art provided my soul."
Date of Birth: 1902
Place of Birth: Istanbul
Date of Death: 24/07/1941 1941
Place of Death: Istanbul
Burial Site: Unknown
Field of Activity
Theatre
"The first happy night of my life (. . .) I was overwhelmed by the drunkenness art provided my soul. There was a nice scene, a crying scene. . . I cried with overflowing joy. I really cried.. Applause, applause, applause.. The curtain closed, opened, they brought me flowers. It turned out that Huseyin Suat Bey, the author, was waiting for us backstage. He stopped me when I was going out and kissed me on the forehead: 'Our stage need somebody ready to sacrifice their life for art; you are that person,'he said.".


(Afife Jale) From Afife Jale's talk with Refik Ahmet Sevengil in 1926, quoted by Metin And, Türk Tiyatrosu Tarihi, p. 153.
Although it was traditionally forbidden for Muslim women to appear on the stage, Darülbedayi (the Conservatory and the City Theatre of Istanbul) admitted Behire, Memduha, Beyza, Refika and Afife to its theater courses on November 10, 1918 with the stipulation that Muslim women would only play in special performances for women.
Politics, social changes and women in public space exemplified by theater performence
With the defeat of the Ottoman Empire at the end of the First World War, administrative authority was weakened due to the occupation of Istanbul by British, French and Italian troops. Darulbedayi administration probably considered this period as an appropriate time to "overcome the taboos".
November 1, 1918

The Committee of Union and Progress Party disbanded.

November 2, 1918

Enver, Talat and Cemal Pashas fled abroad.

November 6, 1918

The Straits (Bosphorus and Dardanelles) were disarmed.

November 7, 1918

Occupational forces arrived at Istanbul.

November 10, 1918

Darülbedayi opened theatre courses for Muslim women.

November 13, 1918

Istanbul was occupied by the Triple Entente.

December 18, 1918

Refika and Afife gained official positions at the theatre, as prompter and apprentice actress respectively.
Behire, Memduha and Beyza had already left the course in the belief that they would never be able to appear on the stage.
Afife participated in the reherasals of plays until 1920 but did not appear onstage. Refika worked as prompter.
In 1920 Darülbedayi produced Huseyin Suat's play Yamalar (Patches) at the Apollon Theatre in Kadikoy ("Apollon Tiyatrosu" was renamed the Rexx Cinemas after its destruction and reconstruction).When Eliza Benemenciyan who was playing the role of Emel went abroad, Afife was selected to assume the role. Under the pseudonym "Jale," she first appeared on the stage on April 22, 1929 at the age of eighteen.
The police arrived at the theater the same night to warn the managers not to allow a Muslim onstage. Nevertheless, one week later Afife Jale appeared in Sweet Secret (Tatlı Sır). The police tried to arrest her but another actress at the theater, Kınar Hanım, helped her to escape. Again after the play Handmaiden (Odalık, Ahmet Nuri Bey) Afife Jale managed to evade a police raid. The police could only arrest the managers of the theater (Darülbedayi) Celal Sahir and Hüseyin Suat.
In 1921 the Ministry of Internal Affairs (Dahiliye Nezareti) issued an edict, No. 204, prohibiting Muslim women from appearing onstage. The municipality of Istanbul sent the edict to the management of Darulbedayi on February 27, 1921. Afife Jale was removed from her post at the theater.
Afife Jale, using different pseudonyms, went on Anatolian tours with the Burhanattin Tepsi Theatrical Company (Burhanettin Tepsi Kumpanyası) and the National Stage (Milli Sahne) of Fikret Sadi. She also appeared onstage with the New Theater Group (Yeni Tiyatro Topluluğu) in Kadıkoy.
Awards
(No information available)
Memberships
(No information available)
Education
İstanbul Kız Sanayi Mektebi (Istanbul School of Industry for Girls), Istanbul
Contributions to Society
(No information available)
Family and Friends
Mother:

Methiye Hanım

Father:

Hidayet Bey

Spouse:

Selahattin Pınar (Composer, oud artist)

Friends:

Hüseyin Suat Bey (Writer), Kınar Hanım (Actress)
Commemorative Projects
Music projects
"Afife Jale Bale Süiti", Compositıon: Turgay Erdener, 1998
The Afife Ballet Suite was coreographed by Beyhan Murphy. It was first performed by Ankara Opera and Ballet Orchestra. Meris Sumen portrayed Afife. Later it was performed at several other cities.
Afife. Compact Disc album. Selva Erdener, sopran; Tahir Aydoğdu, Zither; Rengim Gökmen. Tchaikovsky Symphony Orchestra of Moscow Radio, 2000.
Awards to celebrate her memory
Yapı Kredi Afife Rewards for Theatre (Yapı Kredi Afife Tiyatro Ödülleri) http://www.afife.org/
Locations to celebrate her memory
Ortaköy Afife Jale Kültür Merkezi (Ortaköy Afife Jale Center of Culture), Dereboyu Cad. 4.Kat No:12/A Ortaköy, Istanbul
Afife Jale Sahnesi (Stage of Afife Jale), Dereboyu Caddesi Dere Çıkmazı Sokak No:1, Ortaköy, Istanbul
Documentary / Film / Screenplay
Ahmet Sami Özbudak, Hayal-i Temsil (Screenplay), 2015. The play was staged in Istanbul Metropolitan Municipality City Theater ın 2015, directed by Yigit Sertdemir.
Kilit (Film, 2008) Director / Screenwriter: Ceyda Aslı Kılıçkıran. Müjde Ar, Füsun Kostak, Necmi Yapıcı, Ayla Algan, Serap Aksoy, Mustafa Alabora, Mahmut Cevher, Tümay Torun, Filiz Coşkuner, Zekeriya Hocalar, Hülya Şen, Serhan Süsler, Özgür Özaslan.
Yüzyılın aşkları: Afife ve Selahattin (Documentary, 2003) Director Can Dündar.
Nezihe Araz, Afife Jale (Screenplay) Kültür Bakanlığı, Drama Series 58 (Translated by Nilüfer Mizanoğlu Reddy), Ankara, 1993
Afife Jale (Film, 1987) Director: Şahin Kaygun. Müjde Ar, Serra Yılmaz, Güler Ökten, İsmet Ay, Tarık Tarcan, Macit Koper, Alev Seyer, Gülsen Tuncer, Şahika Tekand. Screenplay: Selim İleri, Nezihe Araz.
Araz, Nezihe, Afife Jale (Screenplay) Devlet Tiyatrosu Dramaturji Bürosu metni, Ankara, 1987.
Further Reading
Osman Balcıgil, Nefesi Tutku Olan Kadın - Afife Jale, 2019.
Koray Kırdı, Afife ve Selâhattin, 2018.
Çiğdem Öztürk, "Müjde Ar Afife Jale'yi arıyor", Radikal, 9 Ekim 2007. http://www.radikal.com.tr/haber.php?haberno=235169 (1.12.2011)
Metin And, Türk Tiyatrosu Tarihi, İstanbul, 1970.
Sources
Quoted Sources
See the "Further Reading" section
Source of Visual Images
Kadın Eserleri Kütüphanesi ve Bilgi Merkezi
Zehra Toska Arşivi
---
Translation into English: Ebru Şanlıtürk, Istanbul, Turkey Editing: Susan Strane, Chilmark, Massachusetts, USA
©2012 Meral Akkent