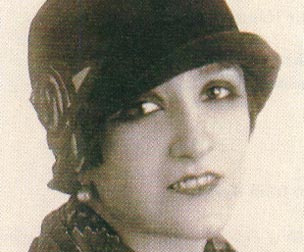 Bedia Muvahhit
One of the first two Moslem film actresses
"To act in a film was something totally unexpected for me. I immediately agreed.
Date of Birth: 16/01/1897
Place of Birth:
Date of Death: 20/01/1994
Place of Death: Istanbul
Burial Site: Zincirlikuyu Cemetery, Istanbul
Field of Activity
Cinema
"In 1923 I had just married Muvahhit. We heard that the nowel 'Ateşten Gömlek" (The Daughter of Smyrna) by Halide Edip was going to be made into a film and that she was insisting on the main roles being played by Moslem women. Muhsin Ertugrul was a good friend of Muvahhit's and mine. He approached us and asked Muvahhit "Would your wife like to act in this film?" I was delighted. To act in a film was something totally unexpected for me. I immediately agreed and we started filming."


(Bedia Muvahhit)


Giovanni Scognamillo, Türk Sinema Tarihi 1896-1986, İstanbul, 2993, p. 210.
Bedia Muvahhit is one of the first two Moslem film actresses. The other is Neyyire Neyir. They acted together in the film "Ateşten Gömlek" in 1923. The screenplay of "Ateşten Gömlek" was adapted from Halide Edip Adıvar`s novel "Ateşten Gömlek" (1922; The Daughter of Smyrna) and the film was directed by Muhsin Ertugrul.< /p> In order to find Moslem actresses for the film, an advertisement was placed in the newspaper. The only woman who showed interest and responded to the advertisement was Neyyire Neyir. In "Ateşten Gömlek" the other main actor besides Bedia Muvahhit and Neyyire Neyir was Kınar Hanım. In "Ateşten Gömlek", Neyyire Neyir played the role of Ayse, and Bedia Muvahhit the part of Kezban.
Bedia Muvahhit as a Stage Actress
"When we had finished filming Ateşten Gömlek, my husband, Ahmet Muvahhit, and I took part in an Izmir tour of the theater group of the conservatory Istanbul, Darülbedayi. At that time I was not yet a stage actress. Atatürk was also in Izmir at the same time. He asked my husband whether I would perform as an actress. I was given the role of 'Saride' in the play 'Ceza Kanunu' (Criminal Law) which Ahmet Nuri Sekizinci had adapted from the play "Vingt Jours a l'Ombre" by Pierre Veber and Maurice Hennequin. In one day I had to learn the part by heart as well as rehearse it on stage. On the evening of Tuesday July 31st 1923, I acted in the play in what was then the Pallas Cinema, later called Tayyare. After the performance Atatürk congratulated me and said I should continue with my theatre career. Thus my life in the theatre world began. I have acted in more than 200 plays in municipal theatres."


(Bedia Muvahhit)
Bedia Muvahhit as a Teacher
1921-1923 Teacher of French at the Erenköy High School for Girls, Istanbul
Bedia Muvahhit as the First Female Moslem Employee
Bedia Muvahhit was one of the first Moslem women in the Ottoman Empire to be employed in the public service sector.
On April 4th 1913 the first edition of the women's journal Kadinlar Dünyasi (Women's World) was published in the Ottoman Empire. The editor of this journal Ulviye Mevlan Civelek also founded the Organisation to Defend the Rights of Women (Müdafaa-i Hukuk-u Nisvan Cemiyeti). Via the journal and the organisation successful campaigns were organised for the participation of women in public life, among other things for the professional employment of women. As a result of their demands, in 1913 a group of Moslem women were employed for the first time by a telephone company. In this group, besides Bedia Sekip (Muvahhit) there were also Hamiyet Dervis, Bedra Osman, Mediha Enver, Refika Mustafa, Semia Hikmet and Nezihe Mustafa.
Awards
1981

Atatürk Prize for Art

1987

Nomination as State Actress

1988

Istanbul Film Festival (Altin Lale Prize)

1993

Official Celebration organised by the City of Istanbul on the occasion of Bedia Muvahhit's 70th anniversary as an actress
Memberships
(No information available)
Education
Kadıköy Terakki Mektebi, İstanbul
Notre Dame de Sion Lisesi, İstanbul
Contributions to Society
(No information available)
Family and Friends
Mother:

Refika Hanım

Father:

Şekip Bey (savcı)

Son:

Şuayip Sina Arbel

Husbands:

Ahmet Refet Muvahit (first marriage, stage actor), Friedrich von Statzer/Ferdi Statzer (second marriage, composer, pianist)

Friends:

Kinar Sivaciyan (stage actress), Adalet Cimcoz (art gallery curator), Ahmet Hamdi Tanpinar (writer and educator), Semiha Berksoy (opera singer)
Commemorative Projects
Bust of Bedia Muvahhit
2005 A bust of Bedia Muvahhit donated by the Sisli Terakki Foundation (sculptor: Neslihan Pala)
Prize in Honour of Bedia Muvahhit
Since 1995 the "Bedia Muvahhit Theatre Prize" has been awarded by the Istanbul Municipal Theatres and the Organisation of Turkish Women to young actresses acting in their first major role at a municipal theatre.
Documentary Film
In 1994 the Cinema and Television Department of the Faculty of Fine Art of Mimar Sinan University Istanbul produced a documentary film about Bedia Muvahhit.
Screenplay
Ahmet Sami Özbudak, Hayal-i Temsil (Screenplay), 2015. The play was staged in Istanbul Metropolitan Municipality City Theater ın 2015, directed by Yigit Sertdemir.
Places that commemorate Bedia Muvahhit
1994

The hall in the theatre Kücük Sahne in Beyoglu, Istanbul, was named after Bedia Muvahhit

1993

The City of Izmir named the street beside the Pallas Cinema after Bedia Muvahhit
Commemoration Stamp
In memory of Bedia Muvahhit a postage stamp was issued
Further Reading
"Bedia Muvahhit Ödülü Kandemir'e", Radikal, 11.5.2010, http://www.radikal.com.tr/Radikal.aspx?aType=RadikalDetayV3&CategoryID=82&ArticleID=996246 (Erişim 29.2.2012).
Serdar Öztürk, "Türk Sinemasına İlk Sansür Tartışmaları ve Yeni Belgeler", Galatasaray İletişim, Haziran 2006, ss.47-76, http://turkoloji.cu.edu.tr/GENEL/serdar_ozturk_sansur_sinema.pdf (Erişim 29.2.2012).
Giovanni Scognamillo, Türk Sinema Tarihi 1896-1986, İstanbul, 2003.
Nebahat Akgün Çomak, "Bedia Muvahhit: Türk Sineması'nda Ateşten Gömlek Filmi ve İlk Türk Kadın Sanatçısı", 100.Yılında Bir Sinema Klasiği, İÜ İletişim Fakültesi Yayını, İstanbul, 1995, s. 60.
Gökhan Akçura, "Bedia Muvahhit - Bir Cumhuriyet Sanatçısı", İstanbul, 1993.
Bedia Muvahhit ile röportaj, TRT 2, 1988 http://www.dailymotion.com/video/xakoh4_bedia-muvahhit_creation
Sources
Quoted Sources
See the "Further Reading" section
Source of Visual Images
Populer Tarih, Ocak 2001, Sayı 4.
Kadın Eserleri Kütüphanesi ve Bilgi Merkezi, Istanbul
---
Translation into English: Mary Waegner, Fürth, Bavaria, Germany
©2012 Meral Akkent